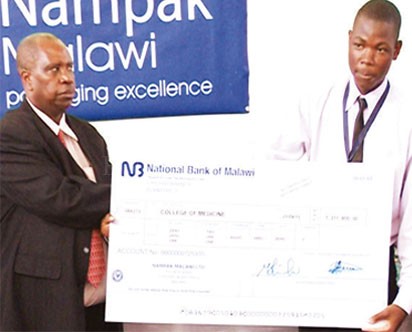 Nampak sponsors medicine student – BNL Times
Nampak sponsors medicine student
Nampak Malawi on Tuesday provided a K1.2 million sponsorship to a College of Medicine student who is supposed to go to the Netherlands to present his research findings.
The student, Yohane Gadama, whose research is on the impact of the new antiretroviral drugs over the old one, submitted his research to the International Student Congress Medical Students ISCOMS and has been invited to make his presentation in June this year.
He will become the first Malawian medicine student to have that opportunity.
In his remarks, Nampak Malawi's Marketing Manager Nyakhoko Nsona said the company decided to provide the sponsorship as part of its corporate social responsibility.
"As a company, it is our policy to give back to the nation by assisting in whatever way we can, especially in the areas of health and education," said Nsona.
Gadama expressed gratitude and vowed not only to make a good presentation, but also market the country and put it on the map.
"I am very grateful for this opportunity, and to Nampak as well for the gesture. I look forward to positively embrace the challenge and put Malawi on the map," he said.
Latest posts by Vanessa Banda
(see all)