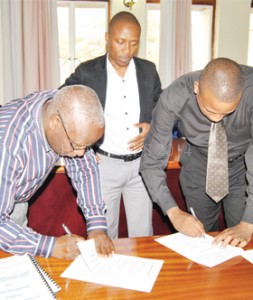 Nampak and Cowuma Sign Agreement To Regulate Working Relationship
Nampak Malawi on Wednesday signed a recognition agreement with Communication Workers Union of Malawi (Cowuma) to regulate the working relationship between employees and management of Nampak.
The agreement will, among others, guide the welfare of employees welfare at the company.
Speaking before signing the agreement, Managing Director of Nampak Simon Itaye pledged to support the operations of the union and work to ensure that employee welfare is protected at all times.
"We will recognise the union and work together with them to promote the interest of our employees," he said.
According to Itaye, 46 of the companies' 127 employees had already joined the union representing a rate of 36 percent.
"We are hopeful that other employees would join after seeing the benefits of the union," said Itaye.
Human Resource Manger for Nampak, Limbani Medi said in the past, they set up a workers' committee to look into issues of employee welfare but said as Nampak they are happy to recognise the presence of the union and were ready to work with them.
"This would benefit the company on issue of industrial relation and would also help us on company productivity," Medi said.
President of Cowuma Deus Sandram commended Nampak for joining the union. He said for any union to be effective at a workplace, it needs to get recognition from management.
He said so far, Cowuma's membership base stands at over 3000 employees drawn from the communication industry.
Source link
Latest posts by Vanessa Banda
(see all)