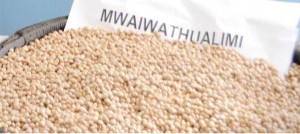 Nandolo prices below K300/kg
After surging to around K700 per kilogramme in July this year, pigeon pea prices have slumped and the commodity is now trading at as low as K180 per kilogramme in some areas.
A snap survey by The Daily Times in selected districts in the Southern Region has revealed that pigeon peas are selling at an average price of K250 per kilogramme.
Nandolo Farmers Association Chairperson, Susan Chimbayo, could not be reached for comment on Wednesday on the tumbling pegion pea prices.
But Chimbayo in a recent interview indicated that with the enormous demand of the commodity in countries such as India, there are high possibilities that prices could surge as high as K900 per kilogramme.
A commodities market analyst with one of the country's produce firms, yesterday attributed the drop in the prices of pigeon pea prices this year as compared to last year to the normalisation of prices for the crop as last year's high prices were 'extraordinary'.
Last year pigeon peas attracted prices as high as K650 per kilogramme.
The analyst noted that the price of pigeon peas in Malawi should be floating around US$450 to US$500 per tonne in Malawi, which is what it is today.
He explained that prices went up last year to over US$1,000 per tonne because of drought and reduced supply on the Indian market from both imports and from Indian Government's strategic reserves.
The Government of India, according to the analyst, is this year releasing more stocks from its strategic reserves to cushion price volatility.
"Black mooing, an alternative to pigeon peas, also looks more affordable and has changed the demand side dynamics," he said.
But Auction Holdings Commodities Exchange (AHCX) Communications Manager, Thom Khanje, while confirming the slump said Malawian farmers and traders should be assured that demand for pigeon peas on the international market remains high.
"Pigeon peas are a major international commodity that are traded openly and transparently on the international market and fluctuation of prices is a normal thing that should not be considered a permanent feature on the commodity.
"In fact, latest market information shows an encouraging trend in international prices for pigeon peas and this has already started being reflected in Malawi where prices have are moving towards K400 per kilogramme, after dropping to as low as K310 per kilogramme in recent weeks." said Khanje.
He said as a key player on the commodities market, AHCX will soon take a bigger position on the pigeon pea market and farmers and traders are encouraged to sell their commodities through AHCX if they are to benefit from transparent pricing that comes with the firm's open trading system.
Estimates from the Ministry of Agriculture and Irrigation show that Malawi has this year produced 336,077 metric tonnes of pigeon peas, up from 335,091 metric tonnes last year but high demand from India, which remains the main destination for Malawi's pigeon pea exports, is expected to keep the prices for the crop high in Malawi.
(Visited 60 times, 60 visits today)
Latest posts by Vanessa Banda
(see all)