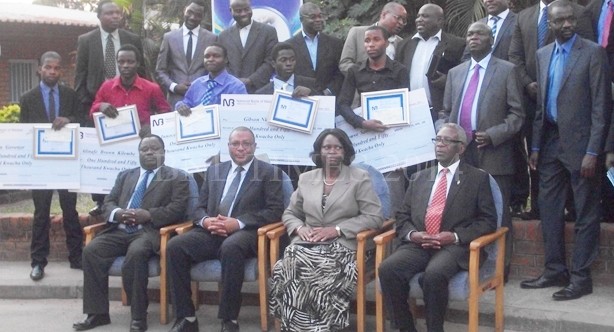 National Bank awards best Mzuni students
National Bank of Malawi (NBM) has awarded outstanding students in different faculties at Mzuzu University (Mzuni) and also donated laboratory equipment worth K5 million to help students when conducting practical work.
NBM Chief Executive George Partridge said the donation and the awards is one way of contributing towards the quality of education in the country.
"This is an annual event which aims at promoting the quality of education in the country. We believe that as a bank we are supposed to contribute towards education because we benefit from the students when they have graduated," said Partridge.
He said those who have been awarded as best students also serve like role models to their fellow students.
Patridge said the bank values education because it is through education that the country can achieve socio economic development.
In her remarks Mzuni Deputy Vice Chancellor Loveness Kaunda thanked the bank for donating the laboratory equipment, which she said will benefit many students at the University.
"Previously it was difficult for students to conduct practical work without equipment, but now they will be able to learn both theory and practical," said Kaunda.
She said the awards also help students to aim for excellence.
One of the awardees Gibson Nkhata of faculty of Information Science and Communication applauded the bank for recognising best students at the university.
"I am very happy for being one of the best students to receive the award. It will help me to pay tuition fees," said Nkhata.
He urged the bank to continue awarding best students because it motivates students to work hard.
The bank awarded five students in five faculties including the Faculty of Science Education and Land Management. The best five students went away with K150, 000 each and an award.
Latest posts by Vanessa Banda
(see all)