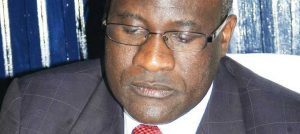 National Bank of Malawi chief for caution on monetary policy
Malawi Stock Exchange (MSE)-listed National Bank of Malawi (NBM) has rated the economic outlook for Malawi as mixed, despite the improvements registered in some key macroeconomic fundamentals.
In an interview, NBM Chief Executive Officer, Macfussy Kawawa, said there is need to exercise caution although some economic drivers are showing signs of stability.
In the past 10 months, inflation has been decelerating, hitting single digit at 9.3 percent in August and further going down to 8.4 percent in September.
Following the good tidings in inflation figures, the Reserve Bank of Malawi (RBM) has over the period
been reviewing the policy rate, which stands at 18 percent.
Commercial banks have followed up on the decision by effecting cuts in base lending rate with most of them offering 26 percent interest to borrowers.
Counting on the gains registered, authorities are also optimistic that the country will register a pick in Gross Domestic Product to 4.5 percent this year, a figure which is higher than the 2.7 percent recorded during the same period in 2016 but lower than the original estimate of 6.1 percent.
The difference is on account of lowering produce prices and low industry output as the country battles its worst electricity crisis in history.
"Consumers are yet to experience the positive impacts of the stabilising and positive macroeconomic environment," Kawawa said.
He further said, given the high levels of food commodity, stock piles would continue to drive food prices even lower.
Kawawa also suggested that, given the significant contribution maize has in the inflation basket, inflation would continue to be modest in the next three to six months.
"This will only be possible un t i l a mar ket for food commodities opens up beyond our borders," he said.
Kawawa said the generally stable foreign exchange regime, lowering inflation and softer interest rates are ideal for substantial economic growth in the long term.
"This is a very desirable environment for private sector growth.
"That said, we believe that, having come this far, the monetary authorities will be cautious and observe the trends in the economy before effecting another review of the policy rate," Kawawa said.
(Visited 4 times, 4 visits today)
Latest posts by Vanessa Banda
(see all)