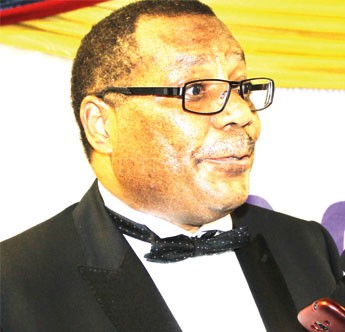 National Bank of Malawi chief laments 2014 economic challenges
National Bank of Malawi (NBM) Chief Executive Officer George Partridge has rated 2014 as a year of economic hurdles that have impinged on performance of the bank and several other businesses in the country.
He was speaking in Blantyre on Saturday during the bank's end at an end of year party where NBM also recognized outstanding employees.
Partridge said the year 2014 was characterised by several hitches, including cash gate, local currency depreciation and interest rates volatility which crippled overall economic and business performance.
"The year has been very difficult. We have had macroeconomic imbalances, unstable exchange rate, and, among others, we have had cash gate and in turn donors withdrawing budgetary support," lamented Partridge.
He said these and other challenges faced by the economy over the year in turn affected operations of the private sector.
The local currency, the kwacha, for instance once hit its lowest mark over the time, trading at K 520 against the US dollar between September and October, sending shock waves of a possible hike in basic commodities.
According to Partridge, the drastic value loss of the kwacha also hit hard on manufacturers and importers who grappled in chasing after the few US dollars that were available on the market.
Partridge also bemoaned the low revenue the country had earned from its major forex earner, tobacco, which brought into the system slightly over US $ 350 million.
He, however, said despite the challenges the bank has managed to record a 'decent profit'.
"In 2015 we would like to promise more products and more services to our customers. And to attain that we would still need a conducive economic environment," said Partridge.
He expressed hope that trends would normalize in the course of next year.
National Bank is listed on the Malawi Stock Exchange.
Airtel Malawi Head of Enterprise Rachel Mijiga said the gesture was part of the company's corporate social responsibility.
"As the world celebrates Christmas, we thought of celebrating with the less privileged, hence our coming here.
"Christmas is about giving, hope and is about family. That is why we at Airtel as one big family we thought to celebrate Christmas with a big family that shares the same value," said Mijiga.
Situated in Nyambadwe in the commercial capital, Steka looks after 47 children.
Steka Director Godknows Maseko hailed Airtel Malawi for the gesture.
"This is one of the best days in my life when Airtel Malawi has come to visit us. The children will live to remember this day," said Maseko.
Latest posts by Vanessa Banda
(see all)