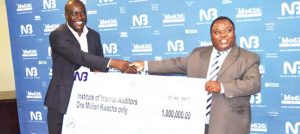 National Bank of Malawi funds auditors' indaba
Malawi Stock Exchange (MSE) – listed National Bank of Malawi (NBM) on Tuesday committed K1 million towards this year's Institute of Internal Auditors (IIA) Malawi's Lake Shore conference slated for this weekend in Mangochi.
NBM General Manager and Head of Operations, Austin Musyani, made a symbolic cheque presentation to IIA Malawi officials at the bank's head offices in Blantyre.
Musyani said the conference attempts to respond to common challenges the country's audit sector has faced in recent years, hence the bank's commitment.
He called on players and other stakeholders attending the conference to be radical in brainstorming roles of internal auditors in growing the country's economy.
"We cannot change this country unless internal auditors play their role. And it is my plea for stakeholders to take audit reports seriously if the country is to fight corruption," he said.
Meanwhile, IIA Malawi Executive Member and Chairperson of the organising committee, Nkamula Pendame, has said all is set for this year's indaba.
The indaba will, be held under the theme 'L.I.V.E: Leadership, Innovation, Value, and Effectiveness – the Malawi Experience'.
Pendame said the conference will take a slightly different course from the previous years' conferences.
"This year, conference is remarkable compared to the previous ones as we will be addressing issues to do with leadership, innovation effectiveness and value which are key to the development of the country and various organizations," Pendame said.
Among others, the conference will bring together board members from various organisations, internal auditors, risk managers, external auditors, accountants, civil society, public officials as well as local and international interested participants.
The IIAM has outlined presenters from Malawi and abroad who will share expertise and ideas with the participants on topics such as, 'Managing Stakeholders Expectations', 'advisory services', 'invincible thinking' and auditing.
Local presenters include Mathews Mtumbuka, Justice Michael Mtambo, Glyx Msanyama and Rachael Sibande.
International speakers include Lesedi Letsedi, former President of Africa Federation of Institute of Internal Auditors Brighton Taengwa, Partner from Deloitte – Zimbabwe and Ruth Mutebe from Uganda.
(Visited 37 times, 37 visits today)
Latest posts by Vanessa Banda
(see all)