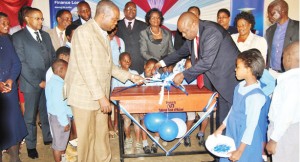 National Bank of Malawi gives desks to Limbe Primary
National Bank of Malawi (NBM) Thursday last week donated 200 school desks worth over K5 million to one of the oldest primary school in Blantyre, Limbe Primary School.
Speaking during the handover of the donation, NBM Head of Personal and Business Banking, Oswin Kasunda, said the bank received a request from the head teacher of the school for the desks
"We thought her request was genuine and had merit hence we did not waste time but present her request to our board of directors who approved the donation in March," Kasunda said.
He said in her letter, the head teacher lamented about an acute shortage of chairs and desks to the extent that most pupils sit on the floor when attending to classes.
Kasunda said the bank is committed to be part of the solution to social challenges in communities. "Although not always, we are able to assist communities in such circumstances where we can," he said.
Limbe Primary School head teacher, Jean Kambewa, commended the bank for the donation saying the bank has helped in making the school conducive for learning.
"Being an old school, we have a lot of challenges and the shortage of desks was one of them," said Kambewa.
The school was established in 1953 as a private school for the Asian community. It currently has an enrolment of 625 learners, of which 301 are boys and 324 are girls, with 12 teachers.
(Visited 9 times, 9 visits today)
Latest posts by Vanessa Banda
(see all)