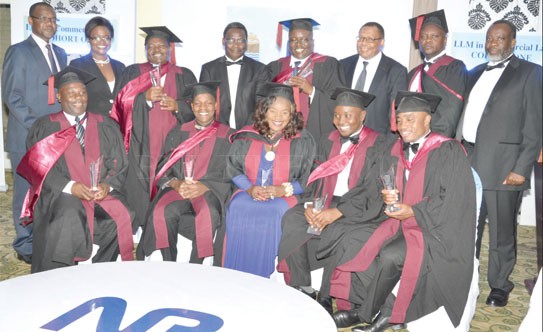 National Bank of Malawi hailed for improving business environment
National Bank of Malawi hailed for improving business environment
One of the country's commercial banks, National Bank of Malawi, has been hailed for its efforts in improving the country's business climate.
Supreme Court Judge Justice Rezine Mzikamanda said this in Blantyre on Friday during a dinner the bank organised for graduates of the first cohort of the Masters of Commercial Law degree.
In 2009, NBM poured K50 million to help kick-start the masters degree programme. Mzikamanda expressed hope that the graduates will play a big role in ensuring that the country's standing on the World Bank Doing Business Index improves.
He noted that the country's performance on the rankings over the past years has not been impressive.
In his speech, NBM Chief Executive Officer George Partridge said the bank noted that year in year out, the World Bank Doing Business Report for Malawi always had 'access to commercial justice' as a major impediment which ranked very high on the negatives of doing business in Malawi.
Partridge said NBM decided to do something about the situation, it being a major player in the economy and being directly affected by such an environment.
"Although the job of creating a conducive environment for businesses to flourish is primarily that of governments, we thought of participating in creating this conducive environment as part of our corporate social responsibility investments, consistent with the bank's own strategic objectives," said Partridge.
He said the bank is impressed with the quality of graduates produced under the programme.
"Of particular interest is to learn that all of you passed your LLM degree not with mere passes, but with credits and distinctions. We are very proud of you for this achievement and success, although I know that some of you will in the course of carrying out your duties, sue us one day. But that's life," said Partridge.
Latest posts by Vanessa Banda
(see all)