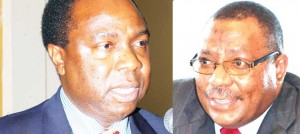 National Bank of Malawi hails Partridge
National Bank of Malawi (NBM) on Thursday bade farewell to Chief Executive Officer, George Partridge, during a colourful event held in Blantyre.
Partridge, who was at the helm of NBM for the past 10 years, now heads for Press Corporation Limited where he will be the conglomerate's group chief executive officer.
NBM Board Chairperson, Matthews Chikaonda, praised Partridge for his commitment and dedication to the bank.
"We are here to celebrate leadership. George has demonstrated to be a good leader during the 22 years he has been with the bank, 10 of which he served as CEO," Chikaonda said.
He said a good leader should leave an institution better than he found it.
"A good leader should be able to look back on his shoulder and see the organization thriving," Chikaonda said.
On Friday, NBM shares fell marginally from K254 to K250 on the Malawi Stock Exchange.
Chikaonda said shareholders and customers need not to panic that Partridge is leaving the bank, saying the bank has put in place strong mechanisms to keep the institution afloat.
"PCL is not Chikaonda, National Bank i  not Partridge. What matters are the institutional frameworks put in place to ensure continuity.
"No one is indispensable. PCL will keep going in the absence of Chikaonda and NBM will remain strong even when Partridge is leaving. We have a very robust succession plan at the bank," said Chikaonda said.
The bank has since elevated Deputy Chief Executive Officer, Macfussy Kawawa, as acting CEO.
NBM has also promoted Harold Jiya and Austine Mushane as general managers.
In his address, Partridge thanked NBM board and customers for the support rendered to him over the years he was at the helm of the bank.
He expressed hope that customers will continue to support the team he has left at NBM.
Asked on what he considers to be some of the achievements at the bank, Partridge said the public would be the best judge.
"We have achieved a lot at the bank but all this could not be attributed to one person. It was team work," said Partridge.
Although he is leaving the bank, Partridge could bounce back as chairperson by virtue of being PCL group CEO.
(Visited 1 times, 1 visits today)
Latest posts by Vanessa Banda
(see all)