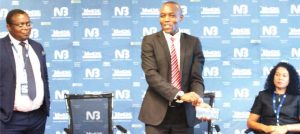 National Bank of Malawi in mobile banking revolution
Malawi Stock Exchange listed National Bank of Malawi (NBM) has launched a new mobile banking platform, Mo626 Digital, a mobile application that enables NBM customers to have access to their bank accounts and do transactions anywhere, even across borders.
The application includes functionalities such as airtime purchases, checking account balance, account mini-statement, bill payments and funds transfer.
Launching the application to the media in Blantyre recently, NBM Head of Cards and e-banking Division, William Kaunda, said the application went through thorough testing and that the bank's customers can be assured that their transactions will be highly secured.
"This application adds to Mo626 Ice, giving our customers the convenience to access their accounts from anywhere without added charges," he said.
According to Kaunda, Mo626 Digital can run concurrently with other mobile banking products, including Mo626 Ice.
Mo626 Digital is an application-based system which can be installed on a smartphone. Through the application, NBM customers have a window to access Mo626 on their social media platforms—for example, Facebook, Telegram and Skype—among others
(Visited 35 times, 1 visits today)
Latest posts by Vanessa Banda
(see all)