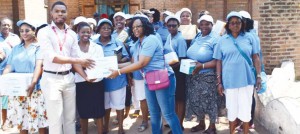 National Bank of Malawi spouses donate to Mangochi hospital
Spouses of National Bank of Malawi (NBM) manager s at the weekend donated various medical equipment worth K1.5 million to Mangochi District Hospital to alleviate some of the challenges the hospital is facing.
The spouses took advantage of the bank's annual extended managers' conference, which was being held in Mangochi, to make the donation.
Speaking after presenting the donation, Rachel Kawawa, wife to NBM Deputy Chief Executive Officer, Mac Fussy Kawawa, said the donation was an initiative of the grouping and added that she was hopeful that it will help the hospital which is operating with limited resources.
"Medical donations like the one we are making today not only provide you with essential supplies, but they also allow you to redirect your financial resources towards other important priorities such as ensuring that patients have enough food to eat and clean water to drink," said Kawawa.
Among the items that were donated to the hospital include a sterilising machine, gloves, stethoscopes, syringes, sutures and catheters.
Mangochi District Hospital Medical Officer, Dr Stalin Zinkanda, thanked the bank for the donation.
"But we still need more help especially with these power outages. We have a small generator which is not covering some critical parts of the hospital and we hope that you will consider us in that area as well," he said.
(Visited 40 times, 1 visits today)
Latest posts by Vanessa Banda
(see all)