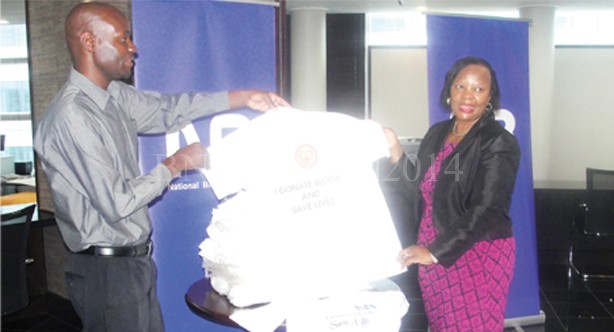 National Bank of Malawi Donates T-Shirts To Those That Donate Blood
National Bank of Malawi (NBM) donated 100 T-shirts to the Malawi Blood Transfusion Service (MBTS) to be given to blood donors ahead of the launch of national blood donation awareness week.
NBM Corporate Affairs Manager Annie Magola said the bank decided to come in because it realises that MBTS in involved in a noble task of collecting blood which can help everyone, including MBTS customers.
"We got the request three weeks ago and seeing that we are going towards the end of our budget year, we thought of donating the 100 T-shirts worth K275,000 but we will include MBTS in our budget next year so that we can do more than what we have done today," said Magola.
MBTS Public Relations Manager Allen Kaombe thanked NBM for the donation saying they will give the T-shirts to blood donors.
"We hope this will promote voluntary blood donation from the public and also promote the image of MBTS. We expect other companies to emulate the example set by NBM by supporting us with consumables for our machines or even soft drinks for the blood donors," said Kaombe.
He said they will be launching the national blood donation awareness week on Saturday at Masintha Ground in Lilongwe which will run from November 17 to 22.
Latest posts by Vanessa Banda
(see all)