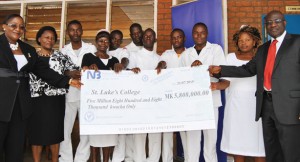 National Bank of Malawi supports needy students
National Bank of Malawi (NBM) on Tuesday distributed the last tranche of grants for a scholarships programme for needy students in Christian Health Association of Malawi (Cham) colleges.
The bank introduced the scholarships programme in Cham Colleges where 19 needy students are being financially supported to pursue their training.
Ten of the students are at St Lukes, six at St Joseph and three at Holy Family colleges of nursing where NBM undertook to pay fees for each one of them for three years.
Speaking during the presentation of the last tranche of cheques to the beneficiaries, NBM deputy chief executive officer, McFussy Kawawa, said the scholarships are a further step in the bank's effort to compliment the government in social service delivery.
He said apart from assisting the particular students, the scholarships are also NBM's contribution towards efforts to alleviate shortage of health workers in the country.
Kawawa said the health sector is the number one beneficiary in NBM's Corporate Social Responsibility (CSR) policy.
"The health sector is a priority sector for us because we believe that for any economy to prosper, it needs healthy people," he said.
He said apart from the scholarships, NBM sets aside some funds from its profits to assists different hospitals in the country either in the procurement of drugs and equipments or refurbishment of infrastructure.
Under the scholarships, NBS has been paying annual schools fees for all the 19 students at K580,800 per student and also separately pays for school uniforms and examination fees in some cases.
Speaking during the ceremony, St Lukes College of Nursing board chairperson, Meya Kalindekafe, said the scholarship would go a long way in helping build capacity in health sector where there is a big shortage of health care workers.
She said, however, more well-wishers need to come forward to assist other students also need support in the colleges.
"We have quite a number of students who are needy and struggling to finance their studies," she said.
(Visited 12 times, 12 visits today)
Latest posts by Vanessa Banda
(see all)