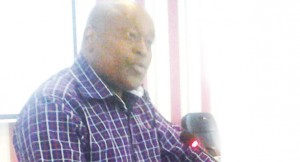 NBM drills Liwonde, Balaka and Ntcheu customers
Malawi's biggest bank by assets and profitability, National Bank of Malawi (NBM) on Saturday equipped SMEs in Liwonde, Ntcheu and Balaka with effective business management skills.
The training took place during a customer interaction meeting held at Hippo View Lodge in Liwonde.
Among others, the SMEs were drilled in record keeping, financial management and business plan writing.
NBM Head of personal and business banking Oswin Kasunda said the bank values the contribution SMEs make to the growth of the bank as well as the country as a whole.
Kasunda said SMEs are future corporates, therefore the need for them to be supported.
He observed that if the country's SMEs are given the necessary support today, Malawi will have more big corporate clients in future who will be able to create jobs.
"We at NBM have the welfare of SMEs at heart. We would like to see you grow and develop into big companies.
"We at NBM are not only about keeping your money or giving you loans. We are also there to help your businesses to grow by helping you on how to run them profitably," said Kasunda.
On the belief that local banks do not appear to support SMEs in areas of access to finance, Kasunda said banks are comfortable to lend to people or groups which know what they are doing.
"In this case a detailed business plan is very important. Banks would like to lend to people who will be able to make profits and be able to service the loans at the end of the day.
"With a good business plan in place, people can even borrow without collateral because we are sure that we will be able to get back the loan amount," said Kasunda.
NBM head of operations Austin Mushane said the bank would like to see interest rates going down so that more and more people have access to loan facilities.
The meeting attracted about 200 customers of the bank.
(Visited 31 times, 31 visits today)
Latest posts by Vanessa Banda
(see all)