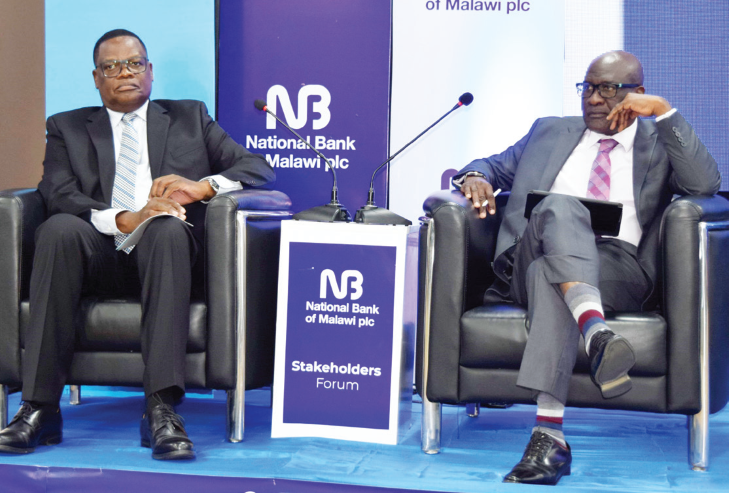 NBM outlines 5 yr growth strategy
National Bank of Malawi (NBM) plc has unveiled a five–year plan to extend its footprint into two other countries in the region and grow profit to $100 million (about K103 billion) by 2027.
NBM board chairperson Jimmy Lipunga told a stakeholders meeting in Blantyre on Wednesday that the Malawi Stock Exchange-listed bank believes its presence in more than one country will help it manage existing and emerging risks as well as grow its profits.
Lipunga (L) and Kawawa captured during
the meeting in Blantyre
He said: "Having grown our capital to a good level, the focus is to manage strategic and political risks so that should there be a problem in one country be it economic or environmental, operations in other countries should support the business.
"Other than that, we believe that as a global village, it should not hurt to spread tentacles outside the country to expand the reach."
Lipunga said the bank is currently conducting an assessment on the countries to venture into within the region with an eye on countries that offer best opportunities while assessing the risks.
He did not mention the countries, but currently, NBM plc is present in Tanzania where it acquired a 60.48 percent stake in Akiba Commercial Bank of Tanzania.
The bank earlier indicated that negotiations are still ongoing to acquire a further stake to increase its shareholding to 75 percent.
On NBM's bid to boost its profit, Lipunga said the financial institution is, among others, optimising its costs, growing deposits and lending more to its customers.
On his part, NBM plc chief executive officer Mac Fussy Kawawa said the bank has put in place measures on its journey to grow its desired profit by 2027.
"Having already acquired Akiba Commercial Bank of Tanzania, there are lessons we have learnt from that acquisition and going forward as we embark on a search for other banks within the region, we are using these lessons so that we can accelerate the pace to acquire the banks which we may find," he said.
Old Mutual Malawi plc group chief finance officer Vera Zulu said as shareholders, they are impressed with the performance of the bank and its plans to grow the business.
She said it is pleasing that the bank's board and management are making sure that the bank remains strong company in the next few years.
"As shareholders, we are impressed by the plans which we believe will take the company grow to higher heights" Zulu said.
Minority Shareholders Association of Malawi general secretary Frank Harawa commended NBM plc for constantly growing the business, saying hopes are high the plan it set by the it will help grow even bigger.
NBM plc, which is 51.5 percent owned by Press Corporation Limited, 22 percent owned by Old Mutual Malawi and the remaining 26.5 percent held by the public, holds the largest asset base among commercial banks in Malawi at K1 trillion.
NBM plc has six subsidiaries, including Akiba Commercial Bank of Tanzania, Stockbrokers Malawi Limited, United General Insurance Company Limited, NBM Capital Markets Limited, NBM Development Bank and NBM Pension Administration Limited.
In the year ended December 31 2022, the NBM plc posted a 34 percent rise in after-tax profit to K45.94 billion from 34.21 billion the previous year.
The post NBM outlines 5-yr growth strategy first appeared on The Nation Online.
Let us know what you think of this article and remember to add us on our facebook and follow us on our twitter. Come back daily for more Malawi business news.
Quick Links: Download Business eBooks | Ten Signs You Are An Entrepreneur | What is a Managing Director?
Latest posts by Vanessa Banda
(see all)