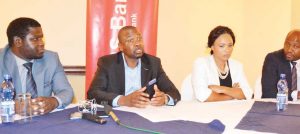 NBS Bank introduces tip-offs anonymous
As one way of creating conducive banking environment, free of fraud and corruption, Malawi Stock Exchange-listed NBS Bank, on Friday partnered Deloitte to introduce a platform called tip-offs anonymous through which customers and members of staff can report suspicious activities.
The bank's Chief Executive Officer, Kwanele Ngwenya, said the bank is committed to providing an environment where customers and staff members could operate freely.
Ngwenya said through the initiative, customers as well as members of staff will be able to report suspicious activities without their identities being exposed.
"We believe that this will greatly enhance our operations as it will help stamp out elements of fraud and corruption," Ngwenya said.
He said the tip-offs anonymous initiative will help save depositors money through the elimination of fraud.
"This initiative has worked wonders elsewhere, and we are confident that it will help improve the environment at NBS Bank," Ngwenya said.
Tip-offs Anonymous Senior Manager, Vanda Phekani, said her company is excited to partner NBS Bank.
Phekani said over the years, tip-offs anonymous has proven to be a very effective way of reporting suspicious transactions as it does not expose the identity of the whistleblower.
"This has helped firms to save a lot of money which could have been lost through fraudulent means," Phekani said.
(Visited 28 times, 28 visits today)
Latest posts by Vanessa Banda
(see all)