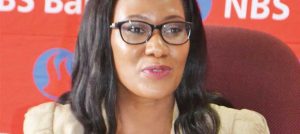 NBS Bank unveils new products
Financial institution, NBS Bank, has introduced two new products; Easysave Account and Easycash Payday Loan.
NBS said the products are tailor-made to suit the needs of the bank's customers.
NBS Head of Marketing, Lorraine Phiri, said the Easysave Savings Account targets serious savers looking for an opportunity to save money at an attractive interest rate.
"The account offers month on month minimum balance interest rate and allows a customer to withdraw from their account not more than two times a month, as any extra withdrawal will attract a charge," she said.
In terms of Eazycash Payday Loan, Phiri, said the loan is a short-term unsecured account, where a customer borrows money on agreement that it will be repaid on the borrower's payday and net monthly salary.
"The loan assists salaried employees during emergencies and unexpected financial requirements such as car repairs, high utility bills and funeral costs, among others. The loan is payable on the next pay date," Phiri said.
She said the loan is interest free and customers will be allowed to get up to 40 percent of their disposable net monthly salary.
"No further fees or interest shall apply except if loan falls into arrears, where a penalty fee of 10 percent will be charged on the total payable amount.
"Once one defaults, the customer cannot access any further payday loans," she said.
(Visited 46 times, 46 visits today)
Latest posts by Vanessa Banda
(see all)