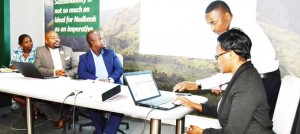 Nedbank splashes cash prizes in promo
One of the country's commercial banks Nedbank, on Wednesday splashed cash during the first draw of its Bulls' Eye: Win a share of K5 million promotion.
The draw saw five customers walking away with K100,000 each.
Nedbank Business Development Manager, Tidzi Chalamba, said the bank is so far impressed with the excitement the promotion has generated.
Chalamba said the promotion is aimed at inviting prospective customers to bank and transact with the institution by opening a current account in addition to encouraging new and existing customers to use the bank's internet banking and visa cards.
He observed that, as part of the promotion, new and existing customers will have a rare opportunity to get a free Nedbank Visa debt card and free internet banking subscription up to December 31.
Chalamba added that, as part of the promotion, customers who move their salaries to Nedbank will be eligible for quick personal loans.
Ironically, all the five winners during the first draw were from Lilongwe.
Chalamba described the development as a coincidence, saying people from across the country entered the promotion.
"I think Lilongwe has just been lucky today, but as you have seen we have entries from all over the country," he said.
To enter, new customers need to open and use a current account that will be funded throughout the campaign period.
New customers are also required to subscribe and use internet banking, acquire and use a Nedbank Visa debit card in addition to a cheque book.
"Existing Nedbank retail customers who have any transactional account such as saving, current Ned Save or student account are required to subscribe and use the internet banking and acquire and use a Nedbank Visa debit card," said Chalamba.
Nedbank, according to Chalamba, will conduct six fortnightly draws in the promotion in which five people will walk away with K100,000 each.
"We will also have a mid promotion draw where one person will win K1 million. At the end of the promotion, in December, one winner will also walk away with K1 million," said Chalamba.
(Visited 11 times, 11 visits today)
Latest posts by Vanessa Banda
(see all)