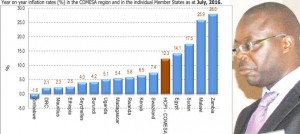 Never-ending inflation battle
Any hope that the prices of goods and services in Malawi will ease anytime soon are slowly fading with latest statistics showing that the price of goods and services in Malawi is the second highest compared to other countries in the 26 member Common Market for Eastern and Southern Africa (Comesa).
For seven months, since the beginning of the year to July, Malawi has been trailing Zambia to record the second highest inflation in the regional trading bloc.
Comesa uses the harmonised consumer price index to compute inflation standings for member states and our studies show that since January, Malawi's inflation has been peaking and was last recorded at 25.9 in July, behind Zambia with a year on year inflation of 28.0.
And the figures paint a gloomy picture, dissolving hopes that the country is making any progress to win the battle. In January, Comesa showed Malawi's inflation at 25.6 percent, but six months later, Malawi's inflation now stands at 25.9 percent.
At some point in 2015, Malawi's inflation rose to become the highest in the region, recorded at 24.6 percent in July, behind Sudan at 17.4 then. Sudan has since managed to reduce its inflation standing to 17.5 in July 2016.
Although Malawi's headline inflation was seen easily to 22.8 percent in August as reported by the National Statistical Office from 23.5 percent in July, the figure still leaves many Malawians grappling to make ends meet.
A survey conducted by the centre for Social Concern (CfSC) in 2014 found that an
average worker receives K44,000 per month and CfSC says the figure has not significantly changed despite salary increments which have been effected since then.
According to CfSC, average national cost of living between June and July increased by 0.26 percent from K165, 660 in June to K166, 086 in July.
CfSC has warned that low income earners in the main cities of Malawi will continue to face economic challenges because the gap between the cost of living and what they get at the end of the month is still too wide
CfSC said by improving Malawi's economy, this will eventually improve peoples' standard of living in both urban and rural areas.
The development comes at a time when Malawi is sailing through other economic challenges made worse by declining revenues from the country's major foreign exchange earner, tobacco.
The troubled tobacco market saw the kwacha depreciating to unprecedented levels, only stabilising in the last month to the dollar while recording mixed fortuned to other currencies such as the South African Rand and pound.
Commenting earlier on Malawi's inflation status, the Economics Association of Malawi (Ecama) cautioned government to control its huge appetite for expenditure, ensure steady food supply and boost the export base if it wants to tame inflation figures to acceptable levels.
Ecama Executive Director, Edward Chilima, observed that if there is no change in the way government is running the economy, then Malawi should not expect any change in the current status.
Said Chilima, "We need to start doing things right if we are to contain inflation figures and we have already spoken about what needs to be done only that what is lacking is implementation. We have talked about the greenbelt initiative as one of the programmes that can boost food supply, but we are not seeing much on the ground. If we continue as we are doing, then let us not expect any change in these statistics," he observed.
Government initially projected a drop in annual average inflation to 16.5 percent by December, but according to Chilima, the target is unattainable in the current economic environment.
"We did not anticipate the drought, absence of donor support or even the unprecedented fall of the kwacha which have all had an impact on the economy and in turn inflation. I don't expect us to achieve that target judging by how things are at the moment," he said.
(Visited 1 times, 1 visits today)
Latest posts by Vanessa Banda
(see all)