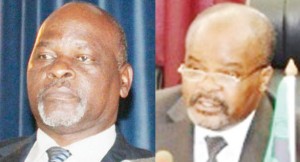 New AfDB livelihoods project in five districts
The Ministry of Agriculture and Rural Development has launched a new project aimed at improved livelihoods in five districts of the country including Phalombe with funding from the African Development Bank (AfDB).
Minister of Agriculture Allan Chiyembekeza and AfDB country representative in Malawi Andrew Mwaba presided over the official launch of the project in Phalombe on Monday this week.
Speaking during the ceremony, Chiyembekeza said the launch of the Sustainable Rural Water and Sanitation Infrastructure for Improved Health and Livelihoods Project will help in meeting international targets for access to clean water and sanitation in the districts.
"The project will seek to increase the resilience of water supply systems through their rehabilitation and expansion and to also address sanitation and hygiene challenges," said Chiyembekeza.
He said the project will also help to climate proof and ensure inclusive access to water supply and sanitation in five districts of Rumphi, Nkhota-kota, Ntcheu, Mangochi and Phalombe.
The project is estimated to cost US$39.4 million (K19.6 billion) and will be implemented over a period of five years up to the year 2019.
On his part, Mwaba said the project will transform and improve the health and livelihoods of the people in the five districts through the provision of potable water and improved sanitation.
"The project will support improving health and contribute to poverty reduction," said Mwaba.
It will also create jobs during construction, including 750 for the youths in bee keeping as part of sustainable catchment management.
Mwaba said t h e project is part of AfDB's Country Strategy Paper and programme for the period 2013 – 2017 for Malawi which mirrors the Malawi Growth and Development Strategy II 2011 – 2016.
(Visited 36 times, 3 visits today)
Latest posts by Vanessa Banda
(see all)