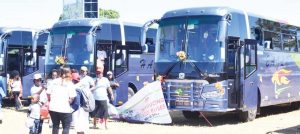 New coaches hit the market
The country's transport sector last week witnessed a new entrant following the launch of Kwezy coaches which were unveiled in Blantyre.
The coaches will be operating between Blantyre and Lilongwe.
Kwezy Buses Managing Director, Benson Vitsitsi, said the coaches will revolutionalise the local transport sector.
"We are bringing something new to the Malawi transport sector. For the first time, Malawi has coaches with wifi which will help passengers to stay connected on the internet between Blantyre and Lilongwe.
"You will agree with me that the distance between Blantyre and Lilongwe is long. The journey may become boring just sitting in one place doing nothing. We want passengers to be busy doing business on their phones and laptops while travelling," Vitsitsi said.
He added that the coaches have USB ports through which passengers could charge their mobile phones while travelling.
Former Malawi Confederation of Chambers of Commerce and Industry (MCCCI) president, Newton Kambala, asked the business community in the country to patronise the coaches.
Kambala said small and medium enterprises such as Kwezy Buses are critical to the development of the economy.
Blantyre City Mayor, Wild Ndipo, urged passengers not to vandalise the facilities on the coaches.
"This is something we need to be happy about and I don't want to see passengers vandalising the buses," Ndipo said.
(Visited 170 times, 170 visits today)
Latest posts by Vanessa Banda
(see all)