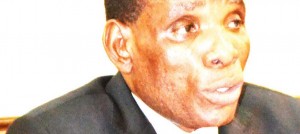 New industrial, trade policies launch Friday
The Ministry of Industry, Trade and Tourism will launch the National Industrial Policy (NIP) and Trade Policy (TP) Friday at the Bingu International Convention Centre (BICC).
The two policies will provide policy direction on how Malawi can transform economically by addressing key challenges that have hindered industrialisation and the country's ability to take full advantage of existing and emerging international market access opportunities.
Minister of Industry, Trade and Tourism, Joseph Mwanamvekha, said the answer to Malawi's economic challenges lies in the need to grow the economy, create jobs and generate more revenue for public service delivery.
"Industrialisation and structural transformation enables a country to develop its productive economy and industrialise to maintain the rapid long-term economic growth that is needed to raise per capita incomes, create sufficient rural and urban jobs, widen the tax base and finance a country's welfare requirements.
"The trade policy in particular seeks to drive structural transformation of the productive sector through supporting and managing integration in regional and global markets as well as value chains with the ambition of increasing exports," he said.
Mwanamvekha further said the trade policy is solidly backed by a trade negotiation framework that will seek to use existing bilateral, regional and multilateral trade agreements.
On the other hand, the ministry's Principal Secretary, Cliff Chiunda, said the two policies are quite important and complementary to each other.
He said one policy looks at the productive systems, productivity and supply of products while the other generally looks at the markets, tariff and non-tariff barriers and movement of goods and services from centres of production to markets.
"The two policies are quite pertinent because since the 1970s, Malawi's economy has not adequately transformed and industrialised as it has largely remained agricultural, with agriculture representing on average 33 percent of Gross Domestic Product," he said.
(Visited 1 times, 1 visits today)
Latest posts by Vanessa Banda
(see all)