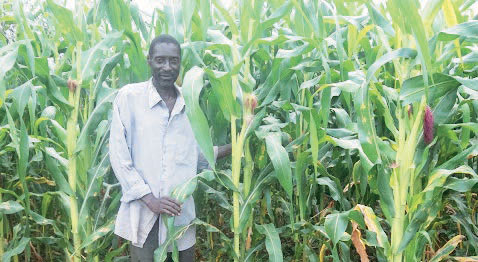 New maize prices excite producers
Dalitso Kabambe
Maize growers in the country have expressed satisfaction with the K200 per kilogram (Kg) farmgate price for buying maize this year.
Agriculture Minister, Francis Kasaila, on Tuesday announced new farmgate prices for buying crops this year and warned unscrupulous traders against reaping off farmers.
A visit to Msundwe and Mitundu produce markets in Lilongwe at the weekend revealed that the price of the commodity has soared up since the announcement was made.
Before the announcement, this year's maize was selling at about K6,000 per 50 kg bag.
One of the growers at Msundwe Market, Damson Mwale, said the announcement on the new prices has given growers the general direction of maize prices this year.
"Before the announcement, vendors were coming here and offering poor prices, some as low as K120 per kg.
"Following the announcement, we know the minimum price to sell our maize. Although most of the traders are still less but we know that government will buy from us at a minimum of K200 per kg or K10,000 per 50 kg bag.
Another farmer, Sinosi Basikolo, urged the Agricultural Development and Marketing Corporation (Admarc) to pay timely and ensure that there are no elements of favouritism and corruption in the maize purchase process.
"If everyone respects the farmgate prices, then we as farmers will be able to have more disposable income," Basikolo said.
Admarc Spokesperson, Agnes Ndovie, recently indicated that Admarc would start buying maize in the first week of April and that they were only waiting for the Ministry of Agriculture to announce farmgate prices.
Reserve Bank of Malawi Governor, Dalitso Kabambe, said on Friday it would be crucial for Admarc to move with pace in buying the maize from growers which it would resell to them during the lean period.
Kabambe said the move would help manage food inflation which threatened to get out of control in the last growing season as traders pegged maize prices as high as K20,000 per 50 kg bag.
Asian Business Community in Blantyre Covid-19 Response Committee Spokesperson, Abas Panjwani, said that the new farm gate prices will help cushion against the current Covid-19 challenges.
Panjwani also requested farmers not to sell their maize cheap and assured them that despite the partial lockdown the supply chain for all produce agregators and factories was seamless and open.
"This year our farmers will reap what they have sowed as the maize price may even go up to 250 on the market as the season comes to an end," Panjwani said.
Let us know what you think of this update and remember to add us on our facebook and follow us on our twitter. Make sure to come back daily for more Malawi business news updates.
Quick Links: Malawi Radio Station Frequencies | Where To Eat In Malawi | Download Business eBooks | Ten Signs You Are An Entrepreneur | What is a Managing Director?
Today's top business story: Top Commercial Banks In Malawi
Source Link
Latest posts by Vanessa Banda
(see all)