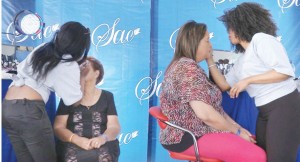 New make-up product line launched in Malawi
Malawian company SAC has joined hands with an American firm to launch make-up products that are suitable for African women.
The products which include foundation, nail polish and lip stick were launched on Sunday at SAC offices in Blantyre.
The company's managing director Shabnam Hubbe said the products were formulated locally, but produced in America.
"This is a Malawian product but it has been produced in America because of lack of equipment in the country," she said.
Hubbe said the new make-up products are suitable for the black skin and targets African and black American women.
"For a long time, African women have been using make ups that do not suit their skin. Make up products that have flooded the market are basically for the whites and not black women," said Hubbe.
She further said the products have been produced in a way that quality is not compromised but at the same time being conscious on cost.
Hubbe said the product will help the women gain their confidence and natural beauty.
"We had to balance the two, thus quality and cost and we managed to come up with a good product that is very affordable but of high quality.
"I am urging all Malawian women to try our product and support us by buying a Malawian product," she said.
One of the women, who had for the past weeks been trying the product, said the new make-up is what Malawian women needed.
Fawzia Osman said the products are economic and suits and African woman very well.
"This is a very good product and it is very economic as compared to other make-up products on the market. For the past few weeks I have been trying the products, I have noted a difference. Sac products maintain ones beauty," said Osman.
Sac products are now on the market and available at their shop situated at Candlex Limited.
(Visited 26 times, 26 visits today)
Latest posts by Vanessa Banda
(see all)