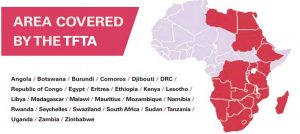 New messaging tool to address trade barriers
A newly designed short messaging service (SMS) for reporting trade barriers within the Tripartite regional economic blocs has been launched.
The Tripartite Free Trade Area was launched in 2015 and encompasses three regional blocks; the Southern African Development Community (Sadc), the East African Community (EAC), and the Common Market for Eastern and Southern Africa (Comesa).
The SMS tool will supplement the current web based online system for reporting, monitoring and elimination of Non-Tariff Barriers (NTBs) used by Comesa, EAC and Sadc.
According to a statement from the Comesa secretariat, the Tripartite online reporting system is a real-time mechanism for reporting, processing, monitoring and resolving trade barriers. It was operationalised in November 2010.
"The online mechanism has been instrumental in assisting the region to understand the kind, frequency and category of NTBs that are encountered by economic operators as they are doing their business in the Tripartite region. These include road blocks, delays in processing export or import documentations, permits, et cetera," the statement reads.
The SMS tool has now been rolled out to Comesa member states as part of capacity building and empowerment to manage trade barriers and fast tracking their removal.
Economic operators who encounter NTBs will be able to send an SMS to the central number which will in turn relay messages to identify focal point numbers and the current online reporting system.
The SMS tool was first launched in 2013 in Zambia to facilitate a diverse spectrum of economic operators, especially the informal and small scale traders who may not have access to the internet. However, the service faced implementation difficulties owing to its centralised system.
At the time the design of the SMS reporting too, there was a central number to which the economic operators in different countries could send the SMS messages to report the trade obstacles that they could have encountered but this proved expensive for most players as it meant incurring roaming charges.
(Visited 34 times, 34 visits today)
Latest posts by Vanessa Banda
(see all)