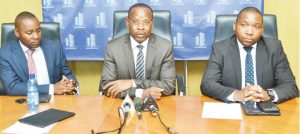 New property firm launched | The Times Group
By Taonga Sabola:
A property ownership firm, Icon Properties, was on Tuesday launched on the market with promises to take Malawi's real estate business to another level.
The firm has Nico Life as its majority shareholder with 63.17 percent stakes with Standard Bank Pension Fund owning 10.33 percent stakes, National Bank Pension Fund having 7.80 percent stakes and Magetsi Pension Fund holding 4.42 percent equity.
Other shareholders are Limbe Leaf Tobacco Pension Fund (2.64 percent), National Investment Trust Plc (2.18 percent), Associated Pension Trust (2.18 percent), Illovo Sugar Pension Fund (1.96 percent), Sucoma (1.36 percent) Puma Energy Pension Fund (1.02 percent), Toyota Malawi Pension Fund (0.87 percent), Press Corp Pension Fund (0.85 percent), Investment Alliance Limited (0.47 percent), NBS Bank Plc (0.31 percent), M.E. Kondowe (0.23 percent) and Limodzi Investments Limited (0.22 percent).
Briefing reporters in Blantyre on Tuesday, Icon Properties Director, Vizenge Kumwenda, said the firm was born as a result of restructuring of property companies in the Nico Group portfolio as well as through a collaborative process with other investors in Malawi who had investments in properties.
Kumwenda said the company was formed with the objective of owning, leasing, managing and developing of commercial, industrial and retail properties.
He said currently the firm owns 22 properties valued at K50.04 billion.
"Icon's properties are located in major economic centers in Malawi and include landmark shopping malls, prime office buildings and key industrial sites.

"These properties have tenants comprising market leaders in banking and finance, international development institutions, United Nations organisations, local blue-chip companies and high-end food and fashion retailers," Kumwenda said.
Some of the properties under Icon include Chichiri Shopping Mall, Lilongwe City Mall and Kang'ombe House.
Kumwenda said the firm wants to be in the forefront of successful, quality property investments and developments in Malawi and providing maximum returns for all stakeholders.
He announced plans by Icon Properties to list on the Malawi Stock Exchange (MSE) adding that the listing process is in motion.
"The company wants the public to have a buy in and public announcement will be made in due course. As part of its growth strategy, plans are there to acquire more properties," Kumwenda said.
MSE Chief Executive Officer, John Kamanga, was not immediately available for comment yesterday.
But Kamanga recently indicated that MSE expects an equity listing from a real estate sector mid-December.
Latest posts by Vanessa Banda
(see all)