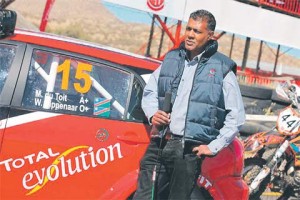 New Total boss cautions on Internet
Total Malawi's new managing director Seggie Kistasamy says the Internet can be misleading as what he read about Malawi from the cyber world is totally different from what he is experiencing in the country.
He told guests during a cocktail party to bid farewell to outgoing MD Michel Malatino in Blantyre that he was initially scared about Malawi from what he read on the Internet.
"When I was told about my posting to Malawi while working in France, I went to the Internet to learn more about the country because I didn't know much about the country," said Kistasamy, a South African national.
"But I must state that the Internet can be misleading because what I read from the Internet is not what I have seen for the past several weeks I have been in the country," he said.
"Malawi is a beautiful and peaceful country with very friendly people. No wonder it is called the warm heart of Africa. I really love this country and I'm very optimistic about my stay in this country," said Kistasamy.
(Visited 132 times, 132 visits today)
Latest posts by Vanessa Banda
(see all)