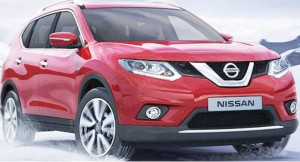 New Xtrail at Nissan Malawi
Nissan Malawi on Friday unveiled the new Nissan Xtrail which promises to revolutionalise the driving experience of Malawians.
The new Nissan Xtrail not only looks sleek and stylish but it is also designed to make every day driving a joy.
Speaking in Blantyre during the launch, Nissan Malawi marketing manager, Yamikani Mbawala, said the new Nissan Xtrail will give Malawians a completely brand new driving experience.
Mbawala said the new Xtrail is more spacious as it has an additional seat at the back.
Packed with practical features, the new Nissan Xtrail adds an element of style to driving.
Mbawala said the new Xtrail is meant for everyone – be it individuals, companies as well as non-governmental organisations.
"Talking of fuel efficiency, the new Nissan Xtrail will give Malawians the much needed relief," said Mbawala, of the new two litre petrol engine Xtrail
As part of the package, Nissan Malawi has partnered a car tracking company to ensure that they provide 24 hour surveillance of the vehicles to avoid cases of carjacking
(Visited 17 times, 17 visits today)
Latest posts by Vanessa Banda
(see all)