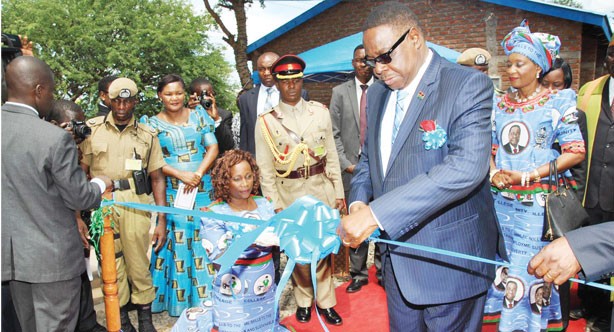 Ngara College bails out Karonga youths
The launch of Ngara community technical college has brought excitement among the people of Karonga.
Ngara technical was officially launched as part of the government's plan to setup community colleges in all the 27 districts. Minister of Labour and Manpower Development Henry Mussa said the first phase will see 11 colleges being opened at a cost of K400 million, that are now functional and the government has spent K400 million.
Mussa said the colleges would be offering six generic courses which include carpentry and joinery; fabrication and welding; motorcycle mechanics; textile and designing; plumbing and bricklaying.
"We shall roll out the 17 remaining colleges after the 2015/2016 national budget and by December all the colleges will be operational," said Mussa.
He said the colleges will be complementary to other government programmes. For example, artisans produced from the colleges would be used in the malata and cement subsidy programme which requires construction of houses.
President Peter Mutharika called on Malawians to change mindset and recognise that it is not only white collar jobs that would develop the country.
Mutharika said technical and vocational jobs are an important means of development and self-sufficiency because they provide and achieve a turnaround in poverty indicators if people especially the youth are given technical, entrepreneurship and vocational training.
"Every year, over 50,000 young men and women qualify for MSCE but cannot all access tertiary education. With only seven national technical colleges, we have the least number of people accessing technical and entrepreneurial and vocational training in the SADC region. At present these colleges can accommodate less than 2,000 students. Seeing this large number of young men and women entering the labour market without any skill is a matter of great concern for me," said Mutharika, adding that the launch marked the start of a new journey of grooming Malawians in all communities to be well equipped to meet competently the challenges of the modern world.
Mutharika said that the community technical colleges are aimed at ensuring a generation of more productive Malawians by contributing extensively to increasing access to grass roots technical, entrepreneurial and vocational training.
He also promised to give capital to the graduates so that they establish their entrepreneurship and employ other Malawians.
Deputy chairperson of the Parliamentary Committee on Education Agnes Nyalonje who is also member of parliament for Mzimba North said the colleges should have come long time ago and urged government to continue funding them.
Latest posts by Vanessa Banda
(see all)