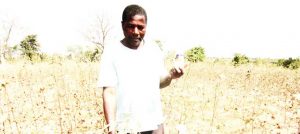 Niche market opens for cotton industry
Although cotton production has been declining over the years, there is potential for the country to tap the unexploited niche market for conventionally bred cotton whose demand has been increasing in the face of insufficient supply to meet demand.
Malawi and other countries in Africa grow cotton which has long fibres and is carefully picked by hand which makes it a high quality raw material for textile and fabrics.
According to an outlook of the cotton industry for the period January to March 2017 compiled by the African Institute of Corporate Citizenship (AICC), this market niche for conventionally bred cotton provides opportunities for Malawi to exploit.
The cotton industry is battling a plethora of immerging global issues in the industry such as synthetic fibre boom, resurgence of new pests and the dominance of transgenic technology
Recently, the industry has seen a shift in demand of textile from natural fibres to synthetic fibres on the back of a rise in industrialisation which is eating into the market for cotton.
But AICC says despite the shift, cotton remains a vital component in economies of many developing countries and the livelihoods of millions of small-scale farmers.
"At the rate at which synthetic fibres are being produced, cotton fibres continue to face a stiff competition on the world market with synthetic fibres which are cheaper to produce and exhibit a high level of design and freedom in research, making them attractive to makers of clothing," AICC said.
Meanwhile, stakeholders in the cotton industry are lobbying government for an injection of $30 million as a short-term measure to boost cotton production.
The players are being led by AICC and include the Cotton Council of Malawi and Cotton Farmers Association of Malawi.
Although Malawi's fourth major foreign exchange earner, cotton production has continued to decline over the years now averaging yields less than 600 kilogrammes per hectare.
Uncertainty of availability of inputs and reliable markets are among the factors that have led many cotton farmers to seek alternative high value crops.
Cotton production in the country has been declining over the years tumbling from 100,000 metric tonnes in 2011 to 15,000 metric tonnes now, risking the livelihoods of cotton farmers and the economy.
This is happening as demand for textile fibre has been growing globally since 1980s, only eight percent of textile was annually used on a per capita basis worldwide. By 2012, this had risen to 12.2 kilogrammes, a 53 percent increase in per capita use.
In 2015, a total of 85.8 million tonnes of textile fibres were produced worldwide depicting a tremendously increase in demand of the product.
Cotton had traditionally dominated the global fibre trade since 1960s but the emergence of other forms of fibre has seen cotton consumption dwindling after the 1960s.
Cotton consumption has been floating around 10 – 30 million tonnes against synthetic fibres which have exponentially risen from 15 million tonnes in 1960s to about 90 million tonnes in 2016.
(Visited 9 times, 9 visits today)
Latest posts by Vanessa Banda
(see all)