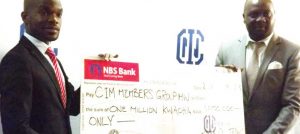 Nico in corporate citizenship drive
Nico Life Assurance Company on Wednesday donated K1.5 million to the Chartered Institute of Marketing (CIM) Malawi and Nation Publications Limited (NPL).
CIM Malawi received K1 million to go towards its Annual Lakeshore Conference while NPL received K500,000 as support for the hosting of this year's Mothers' Day Fun Run initiative.
Nico Life Senior Manager for Group Business, Lillian Moyo, said her firm appreciates the role marketers play in the development of the local economy.
She said for the nation to have vibrant firms, they need to have strong marketing teams which are able to take their products and services to the people.
"We believe the conference is crucial because it will help the country's marketers to discuss new ways of reaching out to customers with their products and services. As such, Malawi will develop," Moyo said.
On her firm's support to NPL Mothers' Day Fun Run, Moyo said mothers are key to the development of the nation while children are the future.
"We, therefore, stand to protect both mother and child as part of our Corporate Social Responsibility. We have seen that NPL has demonstrated responsible fundraising since 2005. We have seen evidence that these resources are indeed going tothe rightful beneficiaries," Moyo said.
CIM Malawi Treasurer, Golden Banda, hailed Nico Life for the support towards the marketers' conference.
He said the indaba will be held under the theme 'The Internet of Things: Big Data Maximisation'.
On her part, NPL Marketing Officer, Vanessa Mdala, said her institution appreciates the support from Nico Life.
Mdala said this year, NPL seeks to raise over K100 million to support Queen Elizabeth Central Hospital and its 26 health centres. The Mothers' Day Fun Run is slated for October 11, 2017.
(Visited 23 times, 1 visits today)
Latest posts by Vanessa Banda
(see all)