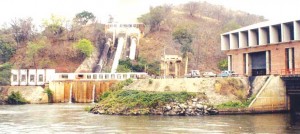 Nkula shutdown shifted to June
MAJOR rehabilitation works targeting Nkula A Power Station have been shifted to June from February, as earlier planned, following a snag in putting together a team to develop and implement mitigation measures in readiness for the shutdown.
The rehabilitation works are being conducted under the $350 million Millennium Challenge Compact (MCC), which was signed between Malawi and the United States governments.
Electricity Generation Company of Malawi (Egenco) Public Relations Officer, Mervin Mchenga, said in an interview on Monday that some mitigation measures have already been concluded such as installation of diesel power plants at Kanengo, rehabilitation and revival of Lilongwe A diesel power plants.
"A special task team has been specifically put in place to look at mitigation measures against the Nkula Power Station shutdown. Electrity Supply Corporation of Malawi (Escom) is on the other hand putting in place its own mitigation measures," Mchenga said.
He said Nkula A rehabilitation works alone will cost $46.5 million and are expected to take almost a year to complete, up to around July 2018. Mchenga explained that this will not be a complete shutdown of the whole power station, but Nkula A only which generates 24 megawatts, and that 100 megawatts generated by Nkula B will still be available.
"Nkula A and B have a combined capacity of 124 megawatts and it is only 24 megawatts that will be taken out of the national grid during the rehabilitation works" he said.
Mchenga said the rehabilitation works will modernise Nkula A Power Station and extend its life span to ease the problem of blackouts which are frequent due to the aging of machines.
"Furthermore, the rehabilitation works will also increase the capacity of the Nkula A Power Station by a substantial 12 megawatts from the current 24 megawatts to 36 megawatts" he said.
Egenco was formed following the decision to unbundle Escom into two separate entities, one responsible for generation and the other distribution. Egenco has taken the task of power generation.
The move is meant to bring efficiency to the country's power sector.
(Visited 25 times, 25 visits today)
Latest posts by Vanessa Banda
(see all)