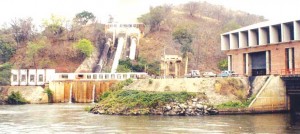 Nkula shutdown to have minimal impact
The Electricity Supply Corporation of Malawi has issued a notice indicating that only 24 megawatts of power will be taken out of Nkula A Power Station during the days when the station is scheduled to be shut down to give way for its rehabilitation, modernisation and upgrading.
The rehabilitation works are being conducted under the $350 million Millennium Challenge Compact (MCC) power compact which was signed between Malawi and the United States governments three years ago. The compact seeks to bring more efficiency to Malawi's energy sector.
Escom said in a statement that the Millenium Challenge Account Malawi and its consulting engineer are working on interventions to minimise power supply interruptions during the time of the rehabilitation among them being the redesigning of the coffer dam.
The rehabilitation works at Nkula are expected to start in June and conclude in July 2018.
"The initial design of the coffer dam required lowering of the pond for five days in June to allow for construction works at Nkula A intake. In this regard, Escom went ahead to inform its customers about impending shortfall in electricity supply. However with this development, a total of 100 megawatts from Nkula B Power Station will be made available to Escom," the statement said.
Following this change in the work design, Escom said the impact of the rehabilitation works on its customers will be reduced.
"We have put in place measures to minimise the impact of taking out 24 megawatts from Nkula A Power Station. Among other short-term interventions, Escom will enhance the sale of Light Emitting Diodes bulbs, through which a saving of close to 40 megwatts is expected," Escom said.
Escom further said it will continue engaging stakeholders as well as its customers to update them on the status of electricity supply over the entire period the rehabilitiation works will be in progress.
(Visited 40 times, 40 visits today)
Latest posts by Vanessa Banda
(see all)