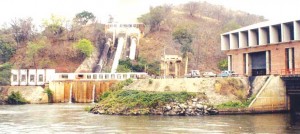 No end to blackouts | The Times Group
Power outages are expected to worsen following a reduction in generation capacity by 19.3 percent, according to the Electricity Supply Corporation of Malawi (Escom).
Escom has said as at the beginning of September, the country was only able to generate three quarters of its full installed capacity.
This means Malawians are only able to access 295 megawatts of electricity against the total installed capacity of 361 megawatts.
The drop is mainly attributed to continued fall of water levels in Lake Malawi.
This has also forced Escom to effect another countrywide load shedding programme.
In an interview, Escom Chief Executive Officer, Evelyn Mwapasa, conceded that the water levels are still going down, putting more pressure on the generation side.
She was speaking after new Minister of Energy, Aggrey Masi, toured the Escom power house in Blantyre.
According to Mwapasa, the supplier is left with no option but to effect a nation-wide load shedding programme while working on modalities to use alternative energy sources.
"We are getting less supply because of the flow of water from Lake Malawi into the Shire River. The load shedding programme is about a quarter of our normal production and that is quite significant," Mwapasa said.
She, however, assured the nation that the problem may not take long as systems are in place to see the country embracing alternative sources.
Masi, also said while more needs to be done to address the challenges, there is still hope that the problem will be addressed in the shortest time possible.
He reiterated government's commitment towards addressing the challenge citing bringing on board other energy sources as an immediate remedy.
"It might not be tomorrow that we are going to sort out the problem, but by and by, you will see that the improvement is there and people will appreciate it," Masi said.
On his tour, Masi was also briefed on progress of the rehabilitation project of Escom's national control centre which, once completed, will help in effective monitoring of faults.
The project is worth K8 billion and is being funded by the United States of America Millennium Challenge Corporation.
(Visited 60 times, 60 visits today)
Latest posts by Vanessa Banda
(see all)