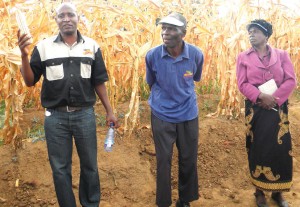 Ntcheu farmers hail Monsanto varieties
Ntcheu farmers from traditional Authority Kwataine have hailed hybrid maize seed varieties produced by Monsanto Malawi.
Monsanto organised a field day in the area to showcase their seed varieties and also sensitise the farmers on the importance of using hybrid seeds.
Paulosi Bengo said Monsanto has saved the area from acute food shortage. He said most members of the community in the area are food secure because they have adapted to usage of hybrid seeds.
"All other companies should follow what Monsanto is doing. The company has been vigilant in promoting usage of hybrid seeds," he said. Bengo said if more farmers in the country plant hybrid seeds, the country will be able to produce enough for both consumption and sale.
"What is lacking is quick adaptation of hybrid seeds especially by small scale farmers in rural areas. My appeal to the government is that they should work together with companies like Monsanto to sensitise rural farmers to stop using local seeds," said Bengo.
Another farmer Mercy Mailosi said climate change has affected productivity in most countries, hence if farmers use hybrid seeds they will be able to produce enough food.
Mailosi said most hybrid seeds are early maturing and resistant to drought. "If you compare local varieties and the hybrid
varieties, you will not that the hybrid seeds are early maturing. So, if the rains start late or end early chances that farmers will be able to harvest are high when hybrid seed varieties are used," she said.
Monsanto produces hybrid maize seed varieties such as DKC 9089, DKC 8033, DKC 8053 and DKC 8073.
(Visited 3 times, 1 visits today)
Latest posts by Vanessa Banda
(see all)