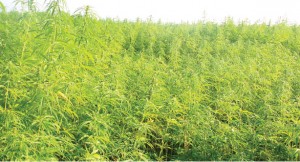 'Objectivity crucial on industrial hemp'
Experts, investors, government officials and policy makers will on Thursday, September 24, 2015 from 2pm converge at Tamarind Club with the British High Commission in Lilongwe to discuss what industrial hemp is and is not, economic potential of the crop, its uses and how it is commercially cultivated.
The meeting has been sponsored by the British High Commission Offices and is aimed at raising awareness on this largely unknown fibre crop which is in high demand in western markets yet it is simple to grow for an agro-based economy like Malawi.
In Malawi, "hemp" has traditionally be e n associated with the variety of cannabis known variously as marijuana, chamba or Malawi gold. However, as with other vegetation, there are many variants of hemp. The current debate in Malawi risks unnecessarily confusing the illegal variety with the different, and potentially economically viable, industrial hemp variety. The industrial variety of hemp cannot practically induce the effects seen in the other marijuana variety.
Some have suggested that it is like comparing non-alcoholic drinks with beer – both are drinks, but the ingredients and effects are different. That being clear, focus should instead be on whether Malawi can make an economic success of this crop.
Industrial hemp came into existence thousands of years ago, and was sought after for its strong fibres. Before mechanization, the British Navy relied on Hemp Bast fibre for its sails, ropes and uniforms. Wars were even waged over hemp, as it was such an important commodity. With the emergence of cheaper synthetic materials and the use of fossil fuels, natural plant material like hemp became obsolete and it was gradually – and mistakenly – lumped in to the same category as its cousin, marijuana.
However, industrial hemp is undergoing a bit of a revival.
Industrial hemp is grown in the United Kingdom and other countries in Europe, with 15,000 ha cultivated in 2014 according to the European Industrial Hemp Association. In the UK, it is one of the main fibre crops grown and its production ties in with sustainable farming policies.
It is used in the textiles, paper making and construction industries, and part of the bio composites are now being used in car frames. If you are driving a car it probably has industrial hemp in it. You may even have a t-shirt, bag or health drink that contains hemp.
According to the European Industrial Hemp Association (EIHA) the hemp food global market was at an estimated $300 million. At the current growth rate it will reach $1 billion by 2020.
Houses have been built in the UK and worldwide using the woody core in the stem of the industrial hemp plant. Around ten tonnes of dry matter are produced per hectare, enough to help build a medium sized family home. It is also a carbon neutral material.
Apart from its uses in building, for clothing, and even as a nutritious food, growing the industrial hemp variety can be good for improving soil conditions.
*The author is the British High Commissioner to Malawi
(Visited 120 times, 34 visits today)
Latest posts by Vanessa Banda
(see all)