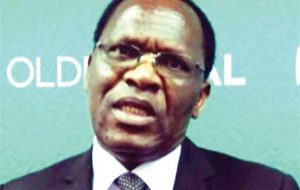 Old Mutual demystifies retirement | The Times Group
Old Mutual has said Malawians need to carefully prepare for retirement to avoid living a miserable life in future.
Old Mutual National Sales Manager, Vincent Mkandawire, said many people avoid the retirement discourse when they are young but become more interested in it when they are about to retire.
He said this has resulted in many indiv iduals not committing enough resources towards life after retirement.
"There is ill-health retirement, where one retires because they are incapacitated and may no longer work efficiently. One could also go for early retirement after 20 years of service.
"Again when one reaches the age of 50, they may opt to retire. Then there is normal retirement as set by the pension fund where, at a designated age, the employer would thank you for your service and tell you to go and rest.
"Finally there is late retirement, where, upon reaching a designated age set by employer such as 60 years, the employer may request you to continue working till a later date as agreed," Mkandawire said
According to Mkandawire, the Reserve Bank of Malawi (RBM), which is the regulator, has provided a schedule with age threshold and that any amounts below the threshold are supposed to be paid in full unless the member opts to receive a monthly pension.
He said if a person's accumulated credit is below K5,440,000, they are allowed to get the whole amount at once. However, once the accumulated credit jumps above K5, 440,000 one is allowed to get a maximum of 40 percent as a lump sum while the remaining 60 percent is received every month as annuities.
Mkandawire said before committing to a pension fund manager to control the 60 percent credit, individuals are encouraged to shop around so that they get the insurer who will give them the best returns.
He said, when shopping around, customers need to look at financial capacity of the pension fund manager, whether the pension is increasing or static, guaranteed period as well as service.
"We, at Old Mutual, have a reputable track record in the pensions industry. In addition, we are a company with enviable financial capacity. It is not like we are here today, and tomorrow we are gone," he said.
(Visited 41 times, 41 visits today)
Latest posts by Vanessa Banda
(see all)