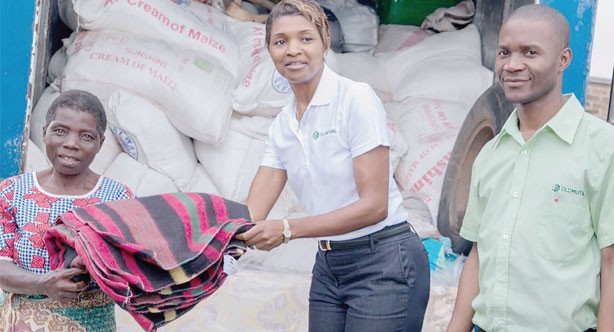 Old Mutual helps flood hit families
Old Mutual helps flood hit families
Old Mutual has said it is developing plans to help flood victims rebuild their lives.
Old Mutual's marketing executive and corporate affairs manager, Linda Phoya, said this last Friday when the company donated relief items worth K2.5 million to flood victims living at a camp at Chigumula in Blantyre.
Phoya said Old Mutual was committed to providing sustainable assistance to the people that were left homeless by the floods that hit the country earlier this year.
"As Old Mutual, we live in a community. Therefore, we thought we could help our affected friends in the community because it is our responsibility as a corporate citizen. We asked members of staff to identify the victims that we could reach out to," she said.
Over 30 families from Kubaluti, Machinjiri and Chiwaya Villages received Likuni Phala, cooking oil, clothes, maize flour, blankets, beans, soya pieces and mattresses.
Phoya said Old Mutual was developing plans to help the flood victims rebuild and move away from the camps.
"Today we have brought relief items to help them in their everyday lives. But we are aware that they are in need of permanent housing. I think that will be another phase where we are looking at how we can assist them to rebuild their lives.
"It is something that we have talked about and it is in our plans, but we have to find the best way to do this because we know there are a lot of families that were affected and we need to find the best criteria to can assist them," said Phoya.
Over 1,000 households were left homeless by the floods that claimed about 300 lives.
Latest posts by Vanessa Banda
(see all)