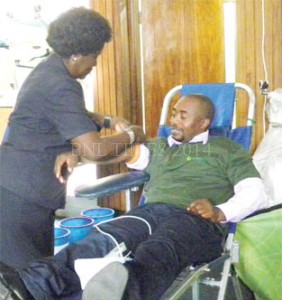 Old Mutual supports blood donation drive
Old Mutual supports blood donation drive
Old Mutual last week engaged its employees in a blood donation drive to support the Malawi Blood Transfusion (MBTS) blood bank. The company also donated initiative K500, 000 cash to MBTS.
Old Mutual Marketing Executive Linda Phoya said the blood donation is a gift that the company decided to give to Malawians during the festive season.
She said there is need for closer partnership in order to help the cause of blood donation in the country.
"We know that by donating blood, we are saving a life and this is what we would like to give as a Christmas gift," said Phoya.
MBTS Chief Executive Natasha Nsamala thanked Old Mutual for the gesture.
"Special thanks should go to Old Mutual for considering our request for help, in both monetary terms and actual blood donation. This is very rare in the corporate world.
"Some companies do not even allow us to visit them or speak to their employees about blood donation. There is a need to understand that blood donation is a national and collective responsibility and MBTs was given the mandate to facilitate availability of safe blood in hospitals," she said.
Latest posts by Vanessa Banda
(see all)