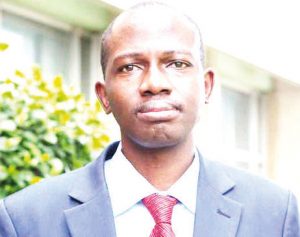 Old Mutual touts pension annuity provision
Old Mutual Malawi has said pension schemes are crucial in minimising the challenges people face after retirement.
Old Mutual Life and Pensions Senior Clients Relationship Manager, Grey Tewete, and Operations Manager, George Sambo, said this on Old Mutual Three Anchors Programme aired on Times Television and radio.
Tewete said Section 64 of the Pensions Act of 2010 provides for how a member can access their accumulated pension money.
He said one of the ways is through retirement, adding that Section 68 of the Pensions Act states that a member can get a maximum of 40 percent of their accumulated pension.
The Act, according to Tewete, further stipulates that the 60 percent balance of accumulated pension money should be used to purchase a monthly pension, technically called annuity, from their choice of licenced insurers in Malawi.
Tewete said Old Mutual offers With-Profit Annuity Product which provides a pensioner with post-retirement income that increases annually.
"This product offers pensioners a monthly pension that gets annual increments. It is ideal for the Malawian environment where inflation is high as it offers real growth to a pensioner's income over the retirement years.
"The increments are dependent on investment returns determined at the
are declared at the end of the year and are effective from January each year," Tewete said.
He said monthly pension is payable for the entire lifetime of the retired member.
"However, it has a guarantee period of 10 years, meaning that if the pensioner passes on before the end of the guarantee period, Old Mutual would continue to pay the monthly pension to an eligible spouse to the end of the 10 years guaranteed period.
"In the unfortunate event of a pensioner passing away before the end of the 10 years guaranteed term, Old Mutual only requires details of the legible spouse in form of marriage certificate, identity and bank details. Otherwise, the pension is payable to the pensioner for his life beyond the guaranteed period," he added.
On his part, Sambo sai d , at the end of each year, Old Mutual determines the return made from the pensioners' investment pool and declares an increment to the pensioners.
Sambo said once an increase is declared, it is added to the guaranteed income and can never be taken away.
He said the increase in amount is based on the pensioner's current mo n t h l y p e n s i o n and results in real and significant growth to a pensioner's income over the years.
"After the term of 10 years when the guaranteed term has lapsed, Old Mutual requires every pensioner to confirm their current contact and bank detail as a way of confirming that the monthly pension is being received by the rightful beneficiary.
Latest posts by Vanessa Banda
(see all)