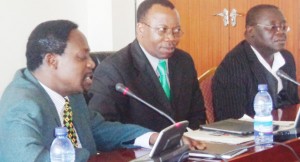 Only 2% of local tea consumed in Malawi
The Tea Association of Malawi (Taml) has engaged parliamentarians in the country to help promote domestic tea consumption, which is currently at two percent.
Taml last week donated tea to the current sitting of Parliament as prelude to its 'Malawi Tea Week' scheduled for August.
Taml Chief Executive Officer Clement Thindwa said the tea week is a bid to raise the current consumption.
"Through the parliamentarians, we feel we will be able to increase the meager domestic tea consumption staggering at a mere two percent at most of the country's average annual production of 46,000 metric tonnes.
"This disproportionately skewed consumption is worrisome as the industry becomes over-exposed to external consumption factors which are largely uncontrollable but volatile, and render business management difficult," he said.
Thindwa said tea has superior scientifically proven health attributes relative to other beverages, and this will be the core message during the tea week programme.
Parliamentary Committee of Agriculture, Irrigation and Water Development Chairman Felix Jumbe said as parliamentarians, they will support the tea industry to promote domestic consumption.
He said tea is one of the major foreign exchange earners, and it is disappointing that only two percent of the tea produced is consumed in the country.
"We will work with the Tea Association to make sure that the local consumption is improved. Apart from that, as a country we are also talking of finding alternatives to tobacco, tea is a better replacement of tobacco," said Jumbe.
He said as a committee they will lobby with the government to extend the tea growing areas as a way of increasing production.
The tea industry is only second to tobacco industry in generation of foreign exchange for Malawi and employs over 60,000 people.
It is calculated that over 1.5 million people rely on the tea industry for livelihood through knock-on and ripple effects
Latest posts by Vanessa Banda
(see all)