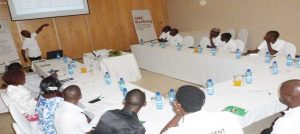 Opportunity Bank of Malawi enhances service delivery
As one way of improving service delivery in rural areas, Opportunity Bank of Malawi (OBM) on Friday engaged its Bank M'manja agents to drill them in customer care, among other skills.
OBM said the training was also aimed at making sure that the bank's customers are getting the bank's services close to them, thereby reducing congestion.
In an interview in Mangochi on Friday, Head of Retail Banking at OBM Howard Bowa admitted that most OBM banking halls are always congested, a situation which he said is as a result of unavailability of banking structures in most rural areas which leads customers to flock to townships in search of banking services.
Going forward, Bowa said OBM has restructured its agent banking model such that instead of them reporting to the head office, the agents will now be reporting to a particular branch where they will be attached as an independent branch.
"The idea is to give all the agents power to operate like a bank. We want them to offer services which are offered at our other braches so that we can reduce the pressure on the branches we have across the country. That is why we want them to start behaving in a professional manner because they will be carrying the bank's image everywhere," he said.
Bowa further revealed that OBM is planning to increase the number of Bank Mmanja agents especially in the remotest areas of the country so as to reach to the unbanked populations which are left out due to their location.
During the training, which was attended by agents from the eastern region, OBM awarded best performing agents in terms of volume and quality. Lawrence Chinkondenji from Balaka emerged the best performing agent.
(Visited 19 times, 19 visits today)
Latest posts by Vanessa Banda
(see all)