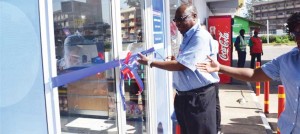 Peoples opens Lotus Express shop
Peoples Trading Centre (PTC), a subsidiary of conglomerate Press Corporation Limited (PCL) has opened a new Peoples Express shop at Lotus Service Station in Limbe.
PTC Chief Executive Officer, Matthews Chikankheni, said the opening of the express shop confirms that Peoples is not folding up as feared by some quarters when it closed about 20 shops in a strategic business move early this year.
"The opening of this shop should tell you one thing; that we are here to stay, that we are not closing down, that your jobs are safe. So let us work hard and offer our customers superior service so that we maintain our position as a leading supermarket in the retail sector," said Chikankheni to his members of staff before the opening of the shop.
He said contrary to fears that people had, when PTC announced that it was closing down 20 of its stores across the country, Peoples will continue to open stores in strategic places and renovate and rebrand some of the existing ones.
"We want to add value to our customers. We need our customers to be served in a refreshing and relaxing environment. That is why we are opening more shops in strategic places and renovating and rebranding the existing ones so that they have the same ambiance for the benefit of our customers," said Chikankheni.
He also appealed to staff at Lotus Peoples Express to offer the superb service to customers for them to make profits and cement their position as market leaders.
(Visited 64 times, 64 visits today)
Latest posts by Vanessa Banda
(see all)