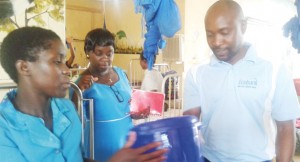 Philanthropic Ecobank day in Blantyre, Mzuzu
As part of celebrations to mark Ecobank Day which falls on October 24 every, the bank on Saturday made various donations to hospitals in Blantyre, Lilongwe and Mzuzu.
In Blantyre, the bank made a K2.6 million donation to Limbe Health Centre for the construction of a water tank while in Mzuzu, Ecobank donated various sanitation items to children in the pediatric ward at Mzuzu Central Hospital
Spe aking when he presented the donation in Blantyre, Ecobank Malawi managing director Charles Asiedu said the day is commemorated to celebrate the beginning of Ecobank which is now spread across the African continent.
He said the donation to Limbe Health Centre was meant to help the hospital manage water problems as the city of Blantyre is currently facing water supply challenges.
"We hope that the water tank will help ease some of the challenges the health facility is facing," said Asiedu.
Apart from the donation, Ecobank members of staff also swept surroundings of the health facility and mopped some of the rooms.
Limbe Health Centre nurse midwife technician Sharon Mwafongo thanked Ecobank for the gesture.
She said the water tank will help the facility store enough water which will help in times of a dry spell.
In Mzuzu, Ecobank branch manager, Chawezi Chirwa, said they decided to donate to children because they are the future of the continent and world at large.
"We believe that every child in Africa deserves a better future," said Chirwa.
A nurse technician at the ward, Chance Mtika, commended the bank for the donation which included soap and buckets.
He said most of the mothers in the ward had no soap to wash napkins and clothes for their children.
(Visited 9 times, 9 visits today)
Latest posts by Vanessa Banda
(see all)