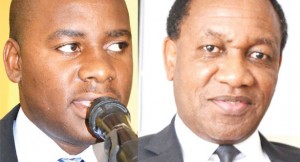 Pitch Night talks business integrity
FDH Financial Holdings Limited boss Thom Mpinganjira on Thursday urged the country's budding entrepreneurs to maintain a highest level of integrity if they are to forge ahead in business.
He was speaking in Blantyre during the inaugural Blantyre Entrepreneurs Pitch Night organised by the Success Guide Foundation.
Mpinganjira, whose institutions owns FDH Bank and various other financial institutions, including a recently purchased majority stake in Malawi Savings Bank, said entrepreneurs should be trustworthy at all cost.
"Your word should be your bond. Don't be crooked in your business if you want your business to grow," said Mpinganjira.
He advised the largely youthful audience against rushing into lavish spending when they start making profits, arguing business people should live "a life and not a lifestyle".
"Do not try to live the lives of established business magnates. They have been in business for a long time and have endured a lot. Live a simple life," said Mpinganjira.
He also advised the youth against starting a business with borrowed money, arguing that it exerts more pressure on the enterprise.
Notable faces at the Pitch Night included another local tycoon Jimmy Korea Mpatsa and Blantyre City Mayor Noel Chalamanda.
One of the organisers of the Pitch Night, Daniel Dunga, said that the event, which will be held monthly, is aimed at providing a platform for budding as well as prospective entrepreneurs to have some coaching from established businessmen.
Dunga added that the event will help the budding entrepreneurs to meet prospective investors as well as customers for their products.
(Visited 16 times, 16 visits today)
Latest posts by Vanessa Banda
(see all)