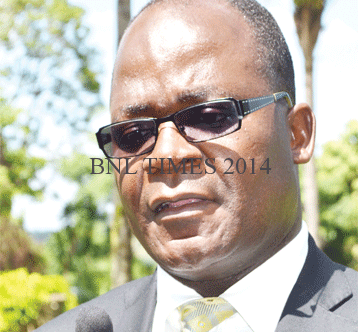 Policy irregularities tops trade obstacles
The Malawi Confederation of Chambers of Commerce and Industry (MCCCI) says economic policy inconsistencies and crime were the major challenges faced by business in the country this year.
MCCCI Chief Executive Officer Chancellor Kaferapanjira said this in the Chamber's position paper on the state of the economy.
The two replace electricity which was the major obstacle of doing business last year. Kaferapanjira said it is worrying to see that the same problems keep coming back despite government promising to deal with them.
"In the Malawi Business Climate Survey for 2014 whose results will be released soon, the top two serious obstacles to doing business in Malawi, with equal scores, are uncertainty in economic and regulatory policies, and crime – security of assets (for example theft).
"Consistency of economic policy is an important indicator of long term stability and encourages investors to invest long term in a country. The frequent changes we have experienced in policy and regulations recently surely have not helped and must have accounted for a larger proportion of why very little long term investments come to Malawi. We therefore need to change the way we run our country," said Kaferapanjira.
He added that the recent security lapses in the country which has seen residents of top government officials such Vice President Saulosi Chilima and Minister of Energy Atupele Muluzi attacked, is a testimony that all is not well.
"Theft of assets is clearly a scare to investors. Who wants to throw away long term hard earned savings into the arms of thieves? "So we must also make Malawi a secure country in which to do business through action and not just words," he added.
The Malawi Business Climate Survey is a perception survey aimed at getting current views from the business community on the business environment in Malawi. A good business environment is a prerequisite for private sector led economic growth as it encourages investment.
A poor business environment, on the other hand, scares away the much needed private investment and should therefore trigger action by authorities to change the course of policy interventions.
The ultimate goal of the survey is to ensure that there are increased and sustained investment levels which lead to increased employment and therefore poverty reduction. The survey also helps to unpack some of the underlying issues that can explain the movement of some economic variables in an economy to better inform policy.
The results of the survey as presented in this report cover general perception of the business climate, obstacles to doing business as perceived by specific key sectors of the economy and internal constraints faced by businesses. Last year, electricity topped hurdles of doing business in the
country followed by uncertainty in economic and regulatory policies. Cost of finance was third with crime on fourth position. President Peter Mutharika recently admitted security lapses in the country.
The president appointed a new Inspector General Paul Kanyama replacing Loti Dzonzi who has been at the helm of the country's law enforcement agency since 2012.
Latest posts by Vanessa Banda
(see all)