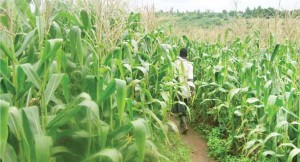 Politics interfering with food security
A Food and Nutrition Security and Climate Change Resilience Policy Analysis Report by Care International has revealed that political interference and failure to diversify food at household level are the major factors affecting the growth of the agriculture sector and improvement in nutrition among Malawians.
The report further indicates that dysfunctional structures affect implementation of policies such as technical working groups and coordination challenges in the nutrition sector.
Care International Policy and Advocacy Coordinator for Southern Africa, Vitumbiko Chinoko, said that the aim of the report was to establish why the country has failed to implement policies in the two sectors despite spending a lot of money in establishing them.
"We found out that many countries in the region have rich policy portfolios but the implementation side is lacking. So, we are looking at strengthening other government structures and non-state actors so that they are able to hold government accountable in the implementation of policies," Chinoko said.
He pointed out that the organisation will engage the government and development partners on the findings and recommendations of the report and embark on a massive advocacy campaign on implementation of existing policies in agriculture and nutrition.
A consultant who conducted research to come up with the report, Tamani Nkhono-Mvula, stressed that politicisation of agriculture investments has greatly affected production and nutrition.
"If you look at, for example, the Farm Input Subsidy Programme, it only promotes one staple, which is maize, leaving aside other investments which are being done on other crops such as soya bean and legumes. When it comes to staples, maize is emphasised and, yet, farmers are being told to diversify," Nkhono-Mvula said.
This comes against a background that Malawi has one of the highest population densities in sub-Saharan Africa, with only 0.23 hectares of land being available per person for those living in rural areas.
The Agriculture sector is mainly smallholder, rain fed and subsistent with maize as the major food crop.
The Nutrition sector is being governed by the National Nutrition Policy (2017 – 2021), which is premised on having a well-nourished Malawian population that effectively contributes to the economic growth and prosperity of the country.
Latest posts by Vanessa Banda
(see all)