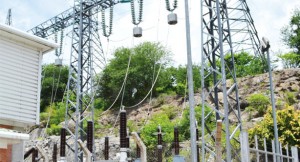 Power demand surpasses supply
Barely two years after the commissioning of the Kapichira Hydro Power Station which saw Malawi's power supply surpassing requirement, demand has increased sharply that it has now overtaken supply by nine megawatts.
And the Electricity Supply Corporation of Malawi (Escom), which concedes that the situation will continue to exert pressure on supply especially when some generation machines breakdown, estimates that the demand will grow by another seven percent by the end of the year.
Consumers should therefore expect rationing of supplies through load shedding.
According to Escom, Malawi's installed power supply is now pegged at around 351 megawatts while demand is at 360 megawatts.
The commissioning of the Kapichira II Power Station in January 2014 increased Malawi's power supply from 223 to 351 megawatts at the time demand was pegged at 345 megawatts.
This means that from January 2014 to date, demand for electricity has increased by 15 megawatts.
Kapichira Hydro Power station manager, William Liabunya, told reporters on Monday that demand for power increases as Escom continues to connect new customers.
"Sometimes there are some industries coming into the system which also require huge power supply. This is giving stress on our capacity," said Liabunya.
He was speaking on the sidelines of a fun day the institution organised for its staff at the station on Monday.
Liabunya said as of now, Escom is still able to meet the demand "but it's on neck to neck" position with the supply.
Commenting on the recent consistent power outages the country has been experiencing, Liabunya said it emanated from faulty machine at its Kapichira power station which has now been fixed.
"We had a problem last week where we lost one machine. The machine drifted and being a big machine, we intensified load shedding in the country. The machine is now back," confirmed Liabunya.
The Malawi Confederation of Chambers of Commerce and Industry (MCCCI) said it was seriously worried with the negative effects the prolonged power outages will have on the operations and profitability of businesses in the country.
Statistics indicate that Malawi's energy generation requirement will escalate to 829 megawatts come 2020.
Latest posts by Vanessa Banda
(see all)