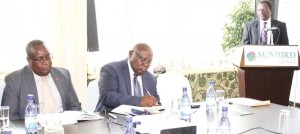 Power generation falls to record low
Power outages are expected to continue in the country with prospects of getting worse by December if water levels in both Shire River and Lake Malawi will not improve.
The Electricity Supply Corporation of Malawi (Escom) reports a reduction in power generation from the current 200 mega watts (MW) to 165MW, representing a power drop of 67 percent.
Briefing the media on the status of power supply at a meeting in Blantyre Monday, Escom Director of Generation, Evance Msiska, said water levels in Lake Malawi have hit their lowest levels in history, making it difficult to generate power.
"This, in turn, corresponds to 165MW of power generation, which is a reduction of 67 percent from the total capacity. This would be a critical situation which would make it impossible even to provide any service to industry and even some essential services. Operating at the current flow of 140 cumecs is unsustainable. Currently a discharge of 115 cumecs is recommended for sustainability.
"With the current operating flow of 139 cumecs, there will be enormous operating difficulties in the months of September to December 2016. Hence, Escom determined that it will be prudent to reduce the operating flow from 139 cumecs to 115 cumecs," he said.
Msiska, however, said there are medium to long term interventions that Escom is undertaking.
The interventions include use of energy saver bulbs, load shifting for industries, cross border power connections, installation and commissioning of diesel generators in Lilongwe and Mzuzu and procurement of emergency power facilities as medium term solutions.
On the Cross Border connection with Mozambique, Msiska said Escom will use existing infrastructure previously used to supply Mozambique Border towns.
"When Mozambique had power problems, we supplied them with power along the border lines like at Villa Ulongwe. All we need is to sign an agreement with Mozambique that they can now be supplying our border towns. The Power Purchase Agreement is currently being reviewed by Mozambique," he said.
Msiska also said 10MW were already installed in Kanengo and is operational while procurement of a further 10MW for Lilongwe and 6MW for Mzuzu is in progress.
On the long term plans, Msiska indicated that the Kam'mwamba coal fired thermal power plant project is at an advanced stage and the first phase of 300MW is expected to be operational by 2019.
He also said the much talked about Malawi-Mozambique power interconnection has kick started, while negotiations for the Malawi-Zambia interconnection through Chipata is still being negotiated.
Msiska further said Escom is banking its hopes on the Independent Power Producers (IPPs) involvement.
"There are 22 IPPs who have signed a memorandum with the government and the anticipated total generation capacity from these IPPs is 565MW. Three of the IPPs are currently at the Power Purchase Agreement (PPA) stage. Out of the 22, one is in hydro and the other two are in solar," he said.
(Visited 20 times, 20 visits today)
Latest posts by Vanessa Banda
(see all)